Generator Rex Season 1 Episode 8
Please help us grow further!
As you can see we have very few ads and no popups on the website. We are trying our best to upload as much videos as we can. But we need your help. Please help us maintain the website and keep uploading movies and series! Please donate. Every dollar counts!
Donate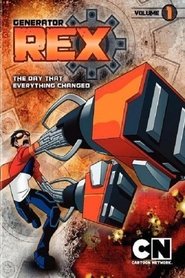 Generator Rex Season 1 Episode 8
Rex wakes up in a creepy boarding school, full of mannequins and stuffed animals, but no people. He is able to use his ear-link communicator to talk to Dr. Holiday, who informs him that he had been fighting an E.V.O. when Breach appeared out of nowhere and teleported Rex away. Providence has Breach in custody, but while Six and Bobo are detected in a desert somewhere, Rex cannot be located. Rex is about to leave the school when he hears a roar; he rescues a small girl from a spider-like E.V.O. which he then cures only to have Breach teleport it away. Rex finds the girl "creepy" and suspects something is wrong with her, but puts on a brave face for her. Meanwhile, Dr. Holiday is unable to get Breach to cooperate; she tries firing probes at Breach, who instinctively opens portals to random spots around the world to protect herself. Rex wanders through a deserted town; he finds a missing cat poster identifying the town as Greenville, Ohio. He manifest his hoverbike and tries to drive away, but falls off a cliff at the edge of the city, discovering it to be floating in a gray void. Dr. Holiday informs him that Greenville vanished two years ago, with all its citizens appearing randomly around the world. She realizes that Breach must have taken it and sent it to a pocket dimension to use as her personal dollhouse, with Rex as her latest doll. Rex kicks over a row of mopeds; Breach gets rid of them through a portal. Rex realizes that this bothers Breach; he begins wrecking things, with Breach dumping them in random places worldwide. The little girl then reveals herself to be a shape-shifting, slug-like E.V.O. with a desperate codependent relationship with Breach. She fights Rex, but damages Breach's prize possessions in the process. Eventually, Breach starts having a nervous breakdown, as her "toys" had been the only thing keeping her stable. During her breakdown, she opens a portal to Providence. Even though the slug-girl E.V.O. tries to stop him, Rex escapes, while Breach – her powers out of control – appears to implode, though it is unspecified weather or not she is dead. Meanwhile, Six and Bobo are stuck in the desert fighting a nest of large scorpion-like E.V.O.s, though they are eventually saved when the scorpions are crushed by cars and trucks ejected from Breach's doll house. Rex, Bobo, Agent Six, and Holiday fly home in a Providence aircraft; Rex observes that Breach's toys were a poor alternative to friends, which he is lucky to have. Holiday tells Six that people can be more fragile than they seem.
Episode Title: Breach
Air Date: 2010-06-11
Year: 2010